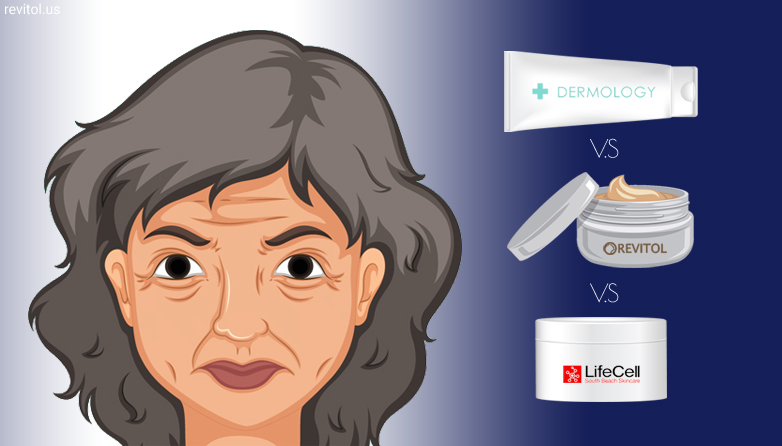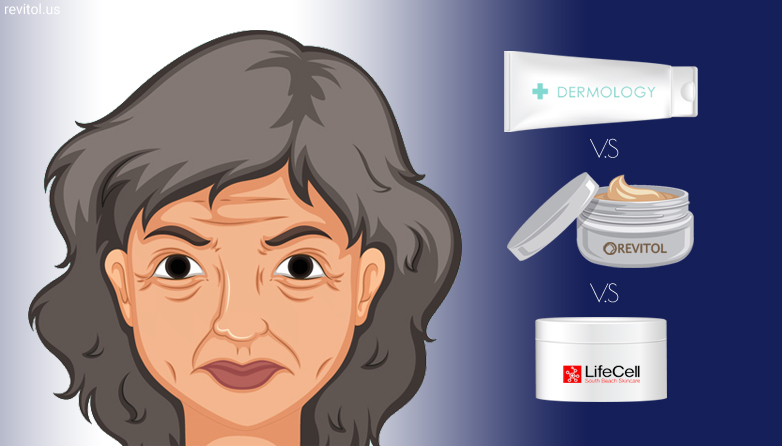 When you have to treat your fine lines and wrinkles it doesn't necessarily require cosmetic surgeries and many visits to your cosmetic surgeons. One should regularly use anti-aging products, to treat such problems and it will make a huge difference in how your skin looks and feels. It is important to know what kind of anti-aging you want for your skin. Just know the right kind of anti-aging for your skin type and there are several qualities to look out when you shop around and busting out on your wallet.
Here we'll discuss anti-aging creams that work- Dermology vs Revitol vs Life-cell skin cream:
Dermology
Dermology anti-aging cream which gives you the right aging care to your aging signs from mild to tough, these signs include brown spots, fine lines, crow's feet, under-eye bags, puffiness, nasolabial and hyperpigmentation. These signs become tougher and stronger with the growing age and this is where Dermology anti-aging cream works and slows down the aging process to extend the lifespan of the span of your skin's youthfulness.
Revitol
Revitol anti-aging cream that cares for your skin and gives you younger-looking skin without any age spots and fine lines. It works on problems like dryness, patchiness, unevenness, sagging skin besides wrinkles quickly and efficiently. The most powerful natural ingredients are used in this cream for a firm, hydrate, and tighten facial skin. It has ingredients like Argireline, DMAE, Edelweiss extract, Hyaluronic acid, and Pentacare NA.
Life-cell skin
Last but not the least, life cell skin anti-aging cream is that anti-aging cream that removes aging signs in just a couple of days. Life-cell skin anti-aging cream removes aging signs in a just couple of days. Life-cell skin anti-aging cream removes skin wrinkles, eye wrinkles, dark circles, and fine lines by keeping your skin moisture intact. Major ingredients of life cell skin anti-aging cream are hyaluronic acid, DMAE, Retinol, Ubiquinone, Deanol, and Palmitate.
Before choosing any of the above anti-aging creams one should think about these factors carefully and then decide to choose any of the anti-aging accordingly:
Know the ingredients
We must know about the ingredients of the anti-aging, we are planning to buy for our skin. An anti-aging cream should have Vitamin A, C, and E, vitamin A promotes cell turnover, stimulate collagen production and help to even out skin tone. Vitamin C and E help to fight against unstable molecules that can-do major damage to your cells. Hyaluronic acid, ceramides, Shea butter, and other hydration can boost and lock in moisture.
Know the skin type
One should know about their skin type before they choose any of the above anti-aging creams. People who have oily skin or live in those areas where the climate is very humid, a lightweight anti-aging cream that has properties like matt finish that will prevent your skin from becoming greasier and shinier. People who have dry skin or live in those areas where the climate is very cold due to which their skin becomes patchy and produce cracks, an anti-aging cream that hydrates the skin is better for such skin type.
Price
This is important for everyone to know that the price of your ant-aging cream has no relationship to the effectiveness. Many people think that the higher the price, the cream is better, but that's not the truth. All of us need to understand that spending money on our skin is fine, but spending money unknowingly about its cost is mere stupidity. One should know what you are buying is worth your money or not.
These points are important before you decide on buying an anti-aging cream for yourself today. Just go and choose the right one for you.
Good Luck!