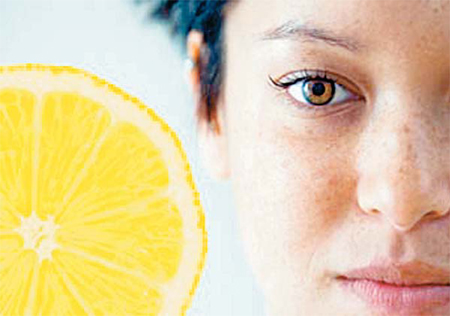 Are those freckles making you lose your self confidence. Do you yearn for a flawless skin sans those tiny brown colored dots. If yes, you have come to the right place. We wll give you the right advice. These are time tested and have been used by human race since time immemorial. These are natural, are effective and make your skin glow with a natural radiance. Take a gander at the following information. I am sure your remedy is lying here in the home remedies for freckles on face.
Lemon. When you have lemons, there is no caue of worry. Lemon juice carries bleaching properties. If you wish to fade those dots, apply freshly squeezed juice on them for a minimum of five minutes and have a beautiful skin free of freckles.
Aloe. Gel extracted from the leaf of aloe vera plant has skin healing qualities. Just smear it on the freckles 2-3 times in a day for 2-3 weeks. This will make it clean and clear.
Horseradish. Add freshly grated horseradish into buttermilk or vinegar. Let it sit for some hours. Buttermilk has been used since ages for skin lightening.
Yellow mustard seeds. Make a paste of these small seeds after grinding them and apply them over the freckles before you sleep. Wash it off in the morning.
Onion. It has been in practice since ages. So, why not use it. Take a small part of red onion and rub it over the area affected with freckles. Continue this practice until you get rid of the problematic issue.
Honey
Take warm honey and smear it on the freckles. Massage it gently. You can also add an extremely small amount of wheat germ to it. Wash off after sometime.
Sour milk or sour cream
A thin layer of sour cream can go a long way in curing freckles. Instead of washing your face, just wipe it off. Buttermilk is equally effective.
Turmeric and sesame seeds
Take turmeric powder and add pulverized sesame seeds to it. Make a paste and apply it over the spots. Rinse it off with cold water. It is one of the best home remedies for freckles on face.
Currants
Take red currants 2-3 tablespoons and mix them with a tablespoon of fresh honey. Apply it over the face. Wash away with clean water.
Vitamin C rich foods
Eat fruits and vegetables rich in Vitamin C. These include broccoli, cauliflower, guavas. These will help in curing freckles from inside.
Almonds
Grind 2-3 almonds and add milk to it. Slather this paste over your face. This will help you in dealing with a lot of issues efficiently.
Lentils
Soak a tablespoon of lentils in milk and ground them in the morning, Apply this paste on the face or any other part of the body. Let it stay there for 10-15 minutes and then wash it off with water.
Fresh fruits
Eat a lot of fruits every day strawberries, apricots, apple, banana, melon and so on. These help in lightening up the tiny brown spots.
Now you would agree that there are plenty of means to keep your skin clear, right! Employ them or use a skin brightening cream. Do let me know of the results.