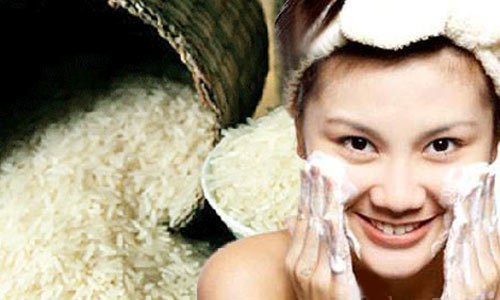 Within seconds of reading the topic, you may have scrutinized all the cereals that you probably know. But I am afraid to say, the list may not have the one that I am going to talk about. Yes. Did it have RICE. Yes, rice for skin care. It is truly the most gratifying and remarkable kind of cereal that can benefit your skin in more ways than one. Though rice lacks fiber and hence considered not very healthy for the body but it contains some vitamins and antioxidants that are extremely good for the skin. Believe me, the tiny grain is capable of doing the unthinkable.
First off, you must know how to use rice for your skin. Make rice water.
Steps:
Take a bowl of uncooked rice
Wash them properly. Not a speck of dirt should remain in it
Keep them in a bowl for 10-15 minutes
Move the water with a spoon. It should appear milky.
Separate water and rice making use of sieve
Allow this water to cool down and store it for future use
RICE SKIN BENEFITS
Rice for Skin toning
Method of application: take some rice water in a bowl. Dip a clean washcloth in it. Squeeze it to drain out the extra water. Now apply this on your face in circular motion. Leave this on for 5-10 minutes. The rice water will remove all the impurities from your face and reduce the pore size thus giving your skin a cleaner, taut look. It is one of the best natural ingredient to exfoliate and hydrates skin effectively.
Rice for Skin Lightening
When rice water is applied topically, it is shown to improve skin texture from dark to light. This is mainly due to PABA (para aminobenzoic acid) which is present in plenty. It is a good sunscreen agent. Apart from this, rice contains two more agents namely allantoin and ferulic acid.
How to use rice for skin whitening
Make a rice water face mask
Ingredients:
rice flour, rice water, cheese grater, small potato, sieve, paper towel, scissor, knife and a spoon.
Preparation:
Peel a potato
Grate it and squeeze out its juice
Add rice flour to it
Mix well
With the tips of your fingers, apply it all over the face
Allow it to stay there for 20-25 minutes
Rinse with cold water
Rice for defying age
It not only makes a great home remedy but is added to a lot of anti-wrinkle creams. Ceramides added to these creams are actually extracted from rice. It has vitamin B, one that reduces aging signs considerably.
Face mask Ingredients:
rice (uncooked), milk
Rice water face mask
1. Take some uncooked rice
2. Grind them
3. Add milk and make a paste
4. Apply this all over the face and neck
5. Leave it for 25-30 minutes
6. Wash with lukewarm water
7. Apply this once a week
Your skin will look visibly younger with reduction in fine lines. Try it. It is one of the best anti aging cereals for a healthier, younger looking skin.