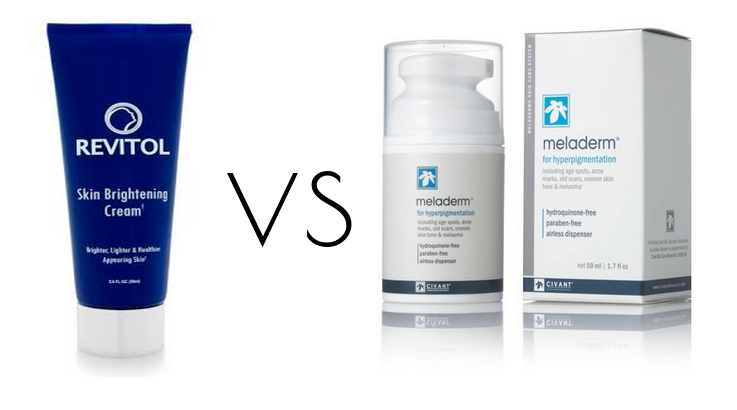 Women all over the world want to have an attractive and appealing skin. But, with time and years of exposure to sun, dirt, and pollution, our skin begins to fade, get spots and become dull. But, if you think there is no hope for your skin after it has faced so much damage. I must tell you there are skin brightening products that can revitalize your skin and make it healthy again.
Two of the best skin lightening products, Revitol Skin brightener and Meladerm are always in competition with each other. Which one to choose over which is really a nerve wrecking task. But, no need to worry, we will help you to choose the best skin brightener cream here. After reading the goods and bad of the two products, you can decide for yourself.
Revitol Skin Brightener Cream Vs Meladerm?
Revitol skin brightener cream: It is a skin lightening product that works quite effectively on any type of the skin. Revitol skin brightener helps reduce freckles, dark spots and discoloration significantly. When you use Revitol cream, your skin is nourished and hydrated, which makes your skin look brighter and younger.
Meladerm: Meladerm, on the other hand is another skin lightening cream which was created by Civant Skin Care Company. Meladerm had hit the markets in 2003 and was designed to reduce skin pigmentation, including age spots, acne scars and marks, melasma, uneven skin tone, freckles and other skin discoloration.
Both the products work for same skin problems, but Revitol is made with a highly advanced formula as it is new in comparison to Meladerm.
How Revitol Skin Brightener and Meladerm work?
The working of any skincare product is determined by what it contains and how these ingredients work, therefore we have compared the ingredients of the both the products here and tried to explain which one's to choose.
Ingredient of Revitol Skin brightener Cream:

Arbutin – Arbutin helps reduce dark spots and is derived from bearberry plant, pear skin, and wheat.
Lumiskin – It helps lighten the skin.
Evening Primrose Oil – Primrose oil moisturize the skin and helps prevent dryness.
Shea Butter – This ingredient has healing properties and also moisturizes and tightens the skin.
Grapefruit Extract – It is an excellent antioxidant that helps eliminate free radicals.
Vitamins A, C and E – These are essential vitamins that keep the skin healthy.
Z Whitener – This ingredient brightens the skin safely and effectively.
Squalene: This is another anti-oxidant that fights free radicals to prevent skin damage.
Ingredients of Meladerm Cream:

Alpha Arbutin –  Alpha Arbutin is a water-soluble ingredient known for skin lightening. It's 10 times more effective than arbutin.
TEGO® Cosmo C 250 – An amino acid derivative that inhibit the growth and activity of melanocytes to give a lighter complexion.
Gigawhite – It is a safer alternative for hydroquinone
Kojic Acid– Kojic acid treats age spots and skin pigmentation.
Licorice Extract – This extract is effective in whitening the skin by inhibiting tyrosinase activation.
Niacinamide – Also known as Vitamin B3, and prevents the transfer of melanosome from melanocytes to keratinocytes.
Mulberry Extract – This extract inhibits tyrosinase enzymes by 50%, and is 5 times more effective than hydroquinone.
Glycolic Acid – It is a type of alpha hydroxy acid which exfoliates the skin making it brighter.
Lemon Juice Extract – It is a natural skin bleach.
Vitamin C – This vitamin is a powerful antioxidant that keeps the skin healthy and also lightens your complexion.
After going through its ingredients, you may notice that both the products don't use any chemical or unnatural ingredients. The ingredients in both are natural and quite effective, moreover none of the product contains hydroquinone for skin lightening. Meladerm's ingredients focus only on skin lightening but Revitol skin Brightner's ingredients are also meant to nourish and hydrate the skin.
What customers says ?
Revitol skin brightener cream: Most of the reviews about Revitol skin brightener cream are positive. Women have seen a considerable change in their skin after using Revitol skin brightener. Revitol helped them reduce age spots, freckles, and skin pigmentation. If you don't believe, here are a few snippets of what people are saying about Revitol skin brightener:
"Its been 1 and half year now, since I am using Revitol and I must tell you, it did work in my case. My dark spots were reduced and my skin was lighter and brighter. I recommend it to all the women who have skin problems– Jessica, W.DC, USA"
Meladerm cream: Meladerm also has plenty of rave reviews from users which goes to show that this product does live up to its promises. The reviews from the customers do tell some success stories for example:
"My biggest problem was hyperpigmentation and I used a lot of products before Meladerm. When I used Meladerm on my friend's advice, I got an even toned skin and my dark spots has also reduced, but one thing I did not like about it was it took a little more time to show results. – Lori K, Australia"
Price: Revitol Skin Brightener Vs Meladerm
One thing, I personally do not like about these products is that they are available online only. You can't find them in any pharma stores.
Revitol skin brightener:  Revitol offers many deals on the product such as 2 tubes free, if you buy 4, saving your $ 60. But, it's single tube also does not cost as much as other skin lightening products, you just need to pay $29.95 for 1 tube. Moreover, the best part is, it comes with a 90 days money back guarantee, so if, in  any case you don't like it, you can return it.
Meladerm: As such, Meladerm's official site do not provide any offers like Revitol and one bottle of Meladerm costs $49.99. And, if you don't like and want to return it, you have only 30 days with you because Meladerm comes with only 30-day money back guarantee.
Conclusion
After reading the attributes for both of the skin lightening Products, which one to choose is not a difficult task. Both products are equally good, and both seems to be equally effective from its reviews. When both the products are meant to treat you the similar way and contains almost same ingredients, why opt for an expensive one. The decision is yours, try for yourself and know which one will better suits you.