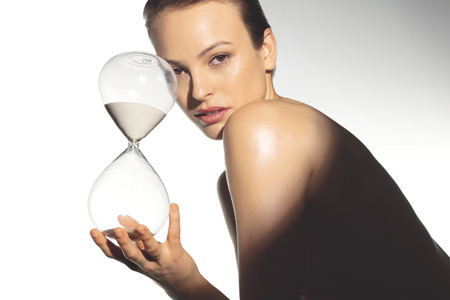 Looking younger than your age is not as easy as pie, you have to work hard and follow a strict routine to attain a younger looking skin. But, with the improved technology and newly found ingredients, getting younger looking skin is not as difficult. Time starts now' you have to start working towards your skin's health now. There is no magic in staying ageless, it is all about a healthy lifestyle that pays. Follow these simple steps to erase signs of aging and boost your overall health.
Lather up at night
Before you hit the sack, washing your face is requisite. Dirt, bacteria and makeup, if left on face all night leaves your face irritated and clog your pores. Use a gentle face wash,  specifically a foam based chemical free face wash to remove this top layer of grime. Post-cleansing, your skin remains tight for 10-15 minutes which is important for anti-aging product to penetrate deeper. Cleansing twice is essential at your 40's because oil production dips with hormonal changes at this age.
Get obsessed with UV
Wearing sunscreen is as important as eating. Yes, it is, SPF 30 is essential every day for that younger looking skin. Even a few minutes in sun can become the major cause for wrinkles and sunspots. Moisturizer with SPF 30 or more, but if your moisturizer doesn't have in built SPF spectrum, make sure you apply one with a good SPF spectrum.
Stress Management
Are you emotionally struggling with your life? If yes, you may look 5 years older than your age. Mind and beauty is connected, the more you smile or laugh, the more glow. Anxiousness increases the stress hormone cortisol, which results in inflammation that breaks down the collagen. It even leads to chain of responses that can cause redness and acne flare-ups. Diet rich in antioxidants such as berries, oranges and asparagus can help quell inflammation. Tension can be released by practicing deep breathing. It is an ultimate stress buster.
Skincare products containing retinoids
Retinol is a derivative of Vitamin-A and it speeds up cell turnover and collagen growth to smooth fine lines and wrinkles and even fades the brown spots. Anti-aging products that contains Prescription-strength forms of retinoids such as Renova which works faster are quite effective in diminishing aging signs. A pea-size of such product can work wonders on your lines and wrinkles. It is most effective if used at night.
Update your daily  routine
Even changing one thing every 3 to 6 months in your regime can show impressive improvements in tone and texture. Applying one product consistently slides your skin's maintenance mode after about a year. Therefore, to keep your skin rejuvenated, substitute your retinoids with alpha hydroxy acids twice a week to boost up the benefits.
Eat Omega 3
Saturated fats in dairy products and meats increase free radical damage but "good fats" in foods such as salmon, flaxseed, and almonds boost hydration. These foods keep your skin supple and firm, whereas saturated fats make skin more susceptible to aging. Limit your saturated fat intake to about 17g daily.
Along with these ant-aging hacks, exercise is another important factor that you need to keep up with. Exercise infuses the skin with oxygen and nutrients needed for collagen production. So, aa healthy routine and good beauty products can definitely help you turn the clock.