Sale!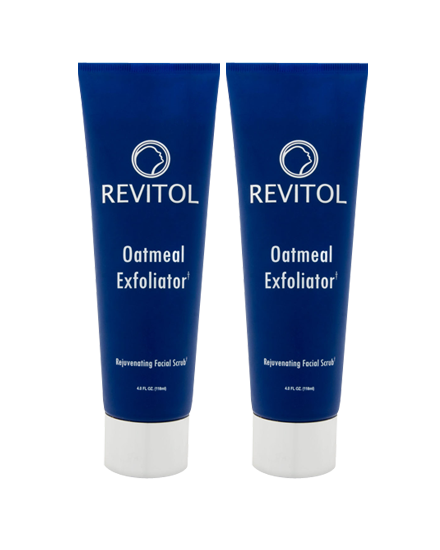 Revitol Skin Exfoliator With Oatmeal – 3 Month Pack
$49.95
Revitol skin exfoliator not only sloughs off the ugly skin cells but is also specially designed for oily and acne-prone skin. It is composed of high-quality natural ingredients, out of which one of its main components is oatmeal. Oatmeal has components such as glycolic acid, lactic acid, and alpha-hydroxy complexes, which are potentially effective ingredients for revitalizing and refreshing the skin. The skin exfoliator from Revitol removes dead skin buildup that makes the skin look bumpy. Revitol Skin Exfoliator with oatmeal also helps reduce the incidence of those nasty skin breakouts.
Description
The old skin cells are supposed to naturally shed off so that new skin cells can take their place. But due to various factors like aging, UV rays and pollution, these dead skin cells stay on the skin and result in a flaky, rough, and dull appearance. Therefore, your skin needs a little help from Revitol skin exfoliator that gently sheds the dead skin cells to reveal newer, clear skin underneath.
Revitol skin exfoliator with oatmeal removes the old, unwanted skin cells, dirt, and oil that are likely to clog your pores, so you can prevent further skin breakouts. The exfoliator not only removes dead skin and makes it smoother, but also help reduce the possibility of pimples and other blemishes. Following key ingredients make this product even more powerful:-
Olive oil smoothens and moisturizes the skin.
Sugar and honey, the two in combination helps remove the dead skin cells.
Oatmeal is a great ingredient for sensitive skin
Grapefruit is natural source of anti-oxidant which detoxifies the skin
Lemon helps slow the aging process and gives you a younger looking skin.
Aloe vera rehydrates the skin
Hyaluronic acid helps preventing skin burns and blisters
Note: Standard Shipping $6.95
What are you waiting for? Order an amazing and gentle exfoliator TODAY!