Sale!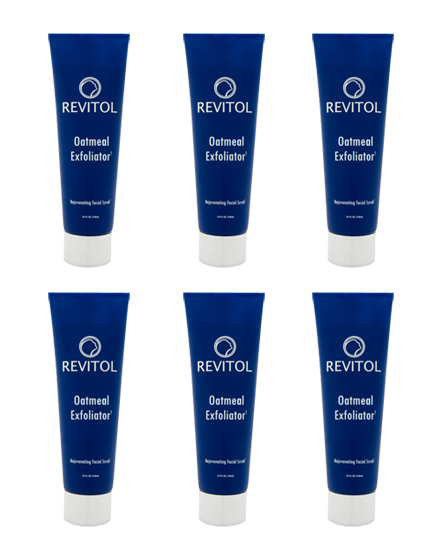 Revitol Oatmeal Exfoliator Cream – 5 Month Kit
$249.75
The best exfoliator is a skincare product that has the ability to make your skin smooth, even and elastic. Revitol Oatmeal Exfoliator Cream does all this and with such finesse that you will forget the irregularities that were present on it once. As the name suggests, it contains oatmeal, an excellent natural compound to remove the dead, flaky skin and leaves it looking youthful and beautiful. It takes away the scar marks by removing the dried out skin and makes them appear lighter. It carries anti aging properties too.
Description
Revitol oatmeal exfoliator cream is an over-the-counter product which has been manufactured with an aim to make your skin look gorgeous without spending money. The ingredients present in it lend it some exclusive properties. Read below to know more:
Cocamidopropyl betaine – it is extracted from coconut oil and moisturizes skin by forming a thick foam.
Aloe barbadensis/ Aloe Vera Leaf Juice – removes dry, flaky skin and hydrates it.
Avena sativa (Oat) Kernel Meal – the chief ingredient of Revitol oatmeal exfoliator cream is oatmeal. It gently scrubs the skin and makes it soft and smooth.
Prounus armeniaca (Apricot) Seed Powder – this popular apricot species removes dead skin and opens up the pores to make them more receptive for other components applied on the skin.
Vanilla planifolia Fruit Extract – though also added as a fragrance, it is a good source of catechins or polyphenols. These are antioxidants and act as anti-inflammatory agents.
Hyaluronic acid – it hydrates, adds elasticity and averts wrinkle formation.
Squalene – extracted from shark liver and olives, it has antioxidants in it and makes the immune system stronger.
Revitol oatmeal exfoliator cream has a bleaching property to make skin lighter and brighter.
Note: Standard Shipping $6.95
Make the right decision for your skin by placing your order today!