Sale!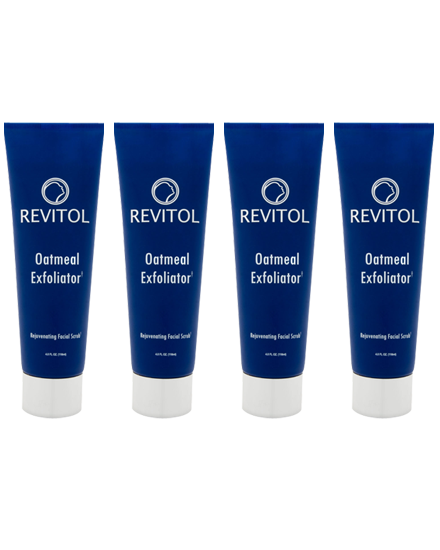 Revitol Skin Exfoliating Cream – 3 Month Pack
$149.85
Revitol oatmeal exfoliator doesn't claim to make you younger or more beautiful, but it promises to reveal the hidden beauty that is somehow getting marred with those signs that appear due to the dead skin piling up on your otherwise beautiful skin. This dead skin triggers a variety of skin issues like acne, blackheads, whiteheads and a leathery feel to the skin. As we know, oatmeal is the best natural exfoliatig agent. Wherein other exfoliators leave your skin dry and irritated, oatmeal exfoliates gently without making your skin facing the wrath.
Description
Remove the dead and shine
Aging combined with sun damage can play havoc on the skin. But keep these worries aside, pick Revitol oatmeal exfoliator and manage these issues easily and effectively at home. The damage caused, causes the upper layer of our dermis to die and thus must be removed. Revitol exfoliator is clinically tested and proven safe for all skin types and is laden with some amazing ingredients to open the pores and do this.
Take a gander at the Revitol oatmeal exfoliator ingredients:
Oatmeal: the star ingredient is good for all those who have a sensitive skin and stay away from exfoliating products.
Sugar, honey: these two assist in sloughing off the dead skin
Olive oil: hydrates the skin and makes it soft and supple.
Grapefruit: A natural antioxidant added to Revitol oatmeal exfoliator
Lemon: is good for regaining the elasticity lost from the skin. Is a wonderful collagen booster
Aloe vera: the juice extracted from the leaf hydrates the skin and makes it glow
Hyaluronic acid: it is capable of averting blisters and burns and also lends moisturization to the skin.
There are some more ingredients which are excellent for the health of your skin. Use it and get a softer skin in just a few days.
Note:- Standard Shipping $6.95