Sale!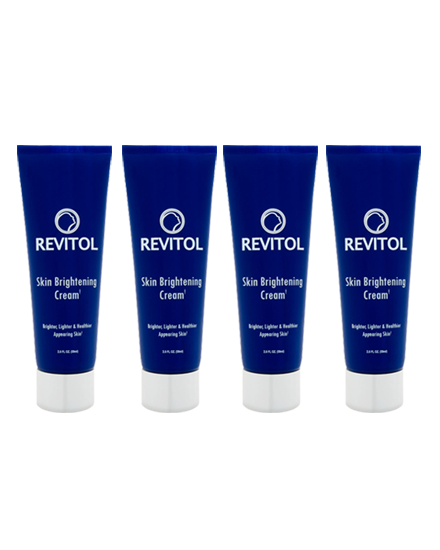 Revitol Skin Brightening Cream – 4 Month Kit
Pigmentation, uneven skin texture, freckles, all these may need a capable cure and this can be done with Revitol skin brightening cream. It is a nice, gentle way of fading those freckles, and pigmentation and make the skin texture more even and bright.  This skin cream is loaded with natural ingredients approved by FDA, so, their safety and efficacy cannot be questioned. It simply does its work in two ways – reduce the amount of melanin and avert dryness. The latter makes skin dull and uneven.
Product Description
Revitol skin brightening cream is one of the finest home remedies to make your skin lighter and brighter. The natural components contained in it turn the skin radiant by doing the following.
Shea butter – a potent moisturizing agent, it makes skin soft and intact. It also saves skin from Sun's UV rays, dryness and premature wrinkles. It encourages cell regeneration in this manner.
Allantoin – A comfrey plant extract, it moistens skin and is extremely good for the outermost skin layer.
Arbutin – A bear berry extract, it is an antioxidant and prevents free radical damage to the skin.
Z-Whitener – boosts arbutin action with its enzymatic action.
Grapefuit seed extract – A natural antioxidant, it is used as a preservative in Revitol skin brightening cream.
Lumiskin – makes skin lighter and lends it an even texture.
Evening Primrose oil – it has been used by women for centuries for beauty purposes mainly for keeping dryness away.
Vitamins A, C and E – Vitamin A promotes skin health. The other two vitamins support the former in its skin benefiting property.
Also, Revitol skin brightening cream doesn't contain any harmful ingredients such as alcohol, paraben, hydroquinone or mercury.
Note: Standard Shipping $6.95:
Buy it today!