Sale!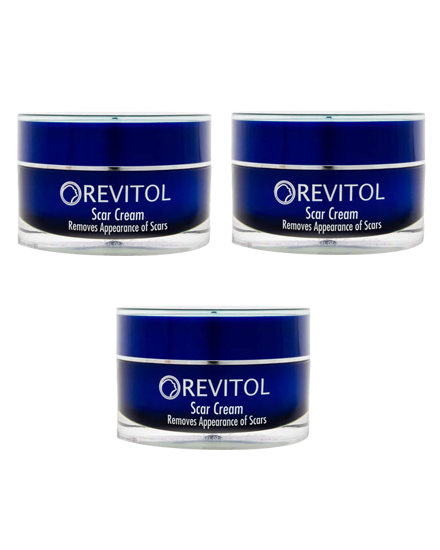 Revitol Acne Scar Cream Kit – 3 Month Pack
$119.85
Scars have been hindering your true beauty. Enliven it with Revitol acne scar cream. It will revitalize the skin with creation of new cells. Scars which are often a result of tearing up of the skin needs healing from the cellular level and it can only be done with a product which can moisturize and stimulate cell regeneration at the same time. Because both these actions should occur simultaneously to bring relief to the person, Revitol acne scar cream is perfect as it does both. This is also effective on other types of scars received from burns, surgery and accidents and not just acne.
Description
Scars look unsightly as these are of a different color than the normal skin color and this is perhaps the reason why people are often so eager to vanish them and get a flawless skin. Revitol acne scar cream has the ability to do so with care. The ingredients in it are mostly natural and heal the scars without causing any side effects on the skin. Also the healing is quicker.
Onion extract – it moisturizes and rejuvenates the skin afflicted with scars and boosts healing. You will feel the growth of new cells instead of those damaged skin cells.
Hydroquinone – this ingredient takes care of the pigmentation amicably.
Glycolic acid – its function is to gently exfoliate the skin. This stimulates formation of skin cells on the area where the skin is badly affected with scars.
Copper peptide – this is one of the best ingredients added to Revitol acne scar cream. It soothes irritation caused due to the scars and promotes healing. It also checks any new scar formation at the same place of the previous one.
Note:- Shipping Free
Don't go anywhere grab this Best Online Offer – Buy 2 jars and Get 1 FREE today..