Sale!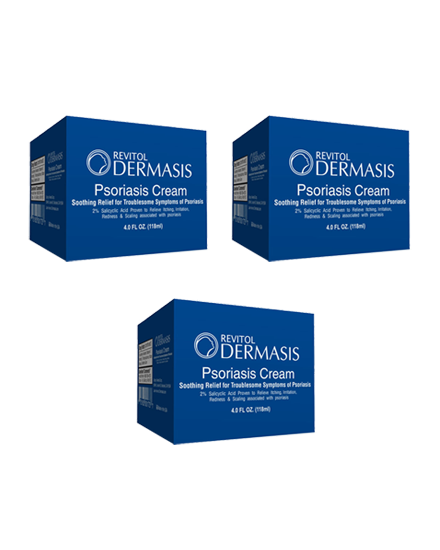 Revitol Psoriasis Cream – 3 Month Pack
$104.85
Revitol Psoriasis Cream is lately been found to be the best cream to counter dermasis. It is scientifically studied and found to be highly safe and effective for people of all ages and skin types. It alleviates issues that arise as a result of the psoriasis skin disease to a large extent. These include redness, itching, scaly skin, cracks in the skin and most importantly it stops psoriasis from recurring. The nuisance caused can be seen vanishing as soon as in two to three weeks, something no other cream can achieve.
Buy 2, Get 1 Free for $26.63/each!
Description
It is a well-known fact that psoriasis has no sure shot cure, but you can make peace with it by applying Revitol Psoriasis Cream which is easily available over the counter. It penetrates deeply without leaving a greasy feel, causes no side effects and contains no chemical agents.
Here are Some Of The Active ingredients of Revitol Psoriasis Cream:
Melaleuca alternifolia: it is the tea tree oil that we all are familiar with. As we know it can treat a variety of skin disorders. In Revitol Psoriasis Cream, it calms burning, itching and irritation caused as a result of psoriasis outbreak.
Vitamin E acetate: it makes the skin soft and smooth by nourishing the skin. It is also useful in saving skin from the adverse effects of the UV rays of the Sun.
Palm oil: it makes a thin layer on the skin and hence locks moisture within the dermal layers and thus ensures that there are no deep cracks or scaly skin.
Salicylic acid: Approved by FDA to treat psoriasis. It encourages dead skin cell removal to help in faster relief from psoriasis.
Know about Revitol Cream Ingredients
Check Best Revitol Products For Men and Women Skin Care
Note: Shipping Free
Now leave the white patchy skin behind with Revitol Dermasis Cream – Buy 2 Bottles and Get 1 FREE.