Sale!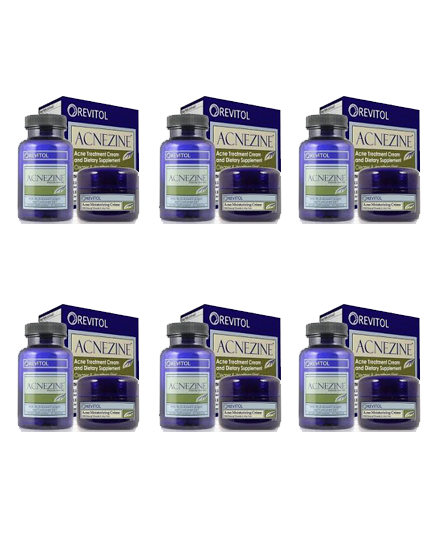 Revitol Acnezine Treatment Cream – 6 Month Pack
Knock out that acne with Revitol acne treatment cream. This cream can be better described as a skin-friendly product that eliminates acne without making the skin dry and parched. While other creams often leave your skin with these aftermaths and may work only on mild acne, this one causes no side effects and works on both mild or moderate acne. Revitol acnezine treatment cream will remove the blemishes in addition to acne and even check any future outbursts as well. Staying true to the promise of providing natural skincare, it does its job effectively.
Product Description
Revitol acnezine treatment cream is an invention of years of research by scientists to ensure a healthy alternative to the acne treatments available. The cream by Revitol contains both antibacterial and moisturizing properties. This is needed to kill acne causing bacteria, keep skin hydrated and control natural oil production as well.
Most of the ingredients used in preparing Revitol acnezine treatment cream are natural extracts. Here are those amazing natural gifts added in the form of ingredients:
Sugarcane – An antioxidant, hydrates and clears acne scars
Xanthum gum – a laxative to clean the intestines.
Honey – A humectant and exfoliator that removes dead skin clogging skin pores
Tea tree oil – An anti-bacterial agent
Lemon – A mild astringent, anti-bacterial, anti-inflammatory. Lightens blemishes
Witch hazel root bark/stem bark – Antioxidant, anti-inflammatory, antiseptic and an astringent
Aloe Vera – Provides moisturization
Green tea leaf – A powerful antioxidant
Bilberry or wild blueberries – Antioxidant
Orange peel – Exfoliator, removes dead skin gently
Sage – Anti-inflammatory
Fire weed leaf – Anti-inflammatory, cleanses skin and heals it
Birk tree resin – Mild astringent and skin cleanser.
Revitol acnezine treatment cream also has benzoyl peroxide and a few more ingredients to make your skin acne free.
Note: Standard Shipping Free
Don't just think, buy it. 
You may also like…